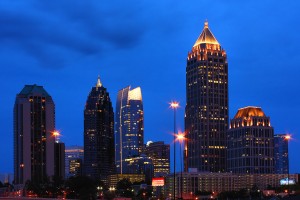 Call Processing Systems (CPS) is a Georgia corporation established in Atlanta in 1988. The name chosen for the company represents our market/technical focus: Computer Telephony Integration (CTI) / Interactive Voice Response (IVR) systems.
We started the company as a reseller of Voice Mail systems, but quickly evolved into Interactive Voice Response. From the beginning our strategy has been to use "Best of Breed" platform hardware and software in our products. As the technology and market requirements have evolved, so has our preferred development platform. In the late 80's our early favorites included DOS-based solutions from Enhanced Systems (Vodavi) and the Unix-based Conversant platform from AT&T(Lucent-Avaya).  As Windows NT became the dominant player in the 90's, so did our preferred design platform.  In many situations, the Vodavi HelloNT/Pathfinder was a leading edge solution.  Indeed, about half of our installations, 1996-1999, used the Vodavi platform. Our primary vertical markets were, and are, County Building Permit/Inspections systems and State/County Tax Department systems.  In 2001 we merged with a competitor, WebSpeak llc., which operated in complementary markets, and continues to do so under its own name with its own President.
Also, in 2001, Vodavi announced their exit from the IVR market.  Call Processing Systems purchased the source code, marketing & support relationships for a portion of their installed client base. This included several building inspections accounts, and a few state/federal accounts.
Call Processing Systems  has continued to develop new IVR applications in the Building Inspection, Tax , Tag, Utilities, and Court markets. We are able to offer a wide array of features such as Fax capabilities, Text-To-Speech, and Speech Recognition, outbound notification, Mobile options .
With the evolution of the World Wide Web, Call Processing Systems, began to offer a wide range of products to take advantage of this technology as well.